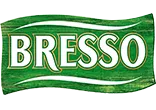 BRESSO 100% PFLANZLICH
IT DOESN'T GET MORE HERBAL THAN THIS – BRESSO 100% PFLANZLICH
BACKGROUND
BRESSO is the first German major player to launch a vegan alternative in the cream cheese industry. They plan to directly conquer a completely new world – the TikTok universe. To ensure that the cheese manufacturer can navigate safely through this unknown terrain, it naturally needs the right guides. It's a good thing that with our 24/7 digital natives and a latent tendency towards TikTok trend obsession, we have just the right professionals in our team.
IMPLEMENTATION
To reach the greatest possible number of users, we quickly decided on a combination of organic and promoted content. The storytelling focused on a healthy mix of humorous skits and educational TikToks.
The main challenge was to find the perfect fit between BRESSO 100% PFLANZLICH – with its French flair and creamy, light taste – and the country's top TikTok Faces. For organic content, we were able to bring in famous names like Dillan, Marco Gianni and Dalia. The promoted content pieces from Vegetario and Jonas Ems were shared directly on the brand-new BRESSO 100% PFLANZLICH TikTok channel – and reached over 12 million views. A perfect TikTok impact for BRESSO and a new highlight for our TikTok lovers. Win win!
PLATFORM